Working remotely or working from home will soon become the norm. As you read this, many companies are trying to hire for jobs that can be done remotely. Irrespective of your industry, there are most likely companies looking to fill some roles that allow you to work from home. This gives you an opportunity to work for top companies from your current location. So, if you think remote work is for you, check out the top remote jobs websites you need right now.
Each of the remote jobs websites you will see below offer a broad range of remote jobs from all over the world. So, irrespective of your career path and industry, you will find remote jobs that require your skills here.
1. FlexJobs
This is one of my favorite top remote jobs websites you need right now. The teams at Flexjobs thoroughly screen the jobs. So, you only get an ad-free, junk-free job search for high-quality remote and flexible jobs. If you are looking for freelance, part-time, and flexible gigs, Flexjobs should be on your list.  While this is a good resource, the website is not free for remote jobs seekers. The fee you will pay grants you access to high quality and incredible access they offer. We covered this already in our article on top websites to find remote work.
2. Angel List
If you don't mind working with a Startup, Angelist should be on your list. Startup companies use Angelist to find remote talent, Some established brands also use this platform. One reason why I love Angelist is its discretion and salary transparency. This ensures that only the companies you apply to will know that you are looking for job. So, while you keep your currently job, try out this platform. Also, each remote job posting includes annual salary in the header. Therefore, you can decide if the salary the company offers meets your expectation before you apply.
3. AwesomeJobs
AwesomeJobs is a curated and constantly updated list of remote job opportunities. The platform gives you an opportunity to join a Startup and work with interesting companies around the world. Through AwesomeJobs, you will be able to discover the best remote jobs across the world. The teams constantly update website with open remote positions in development, design, marketing, sales, and customer support.
4. SolidGigs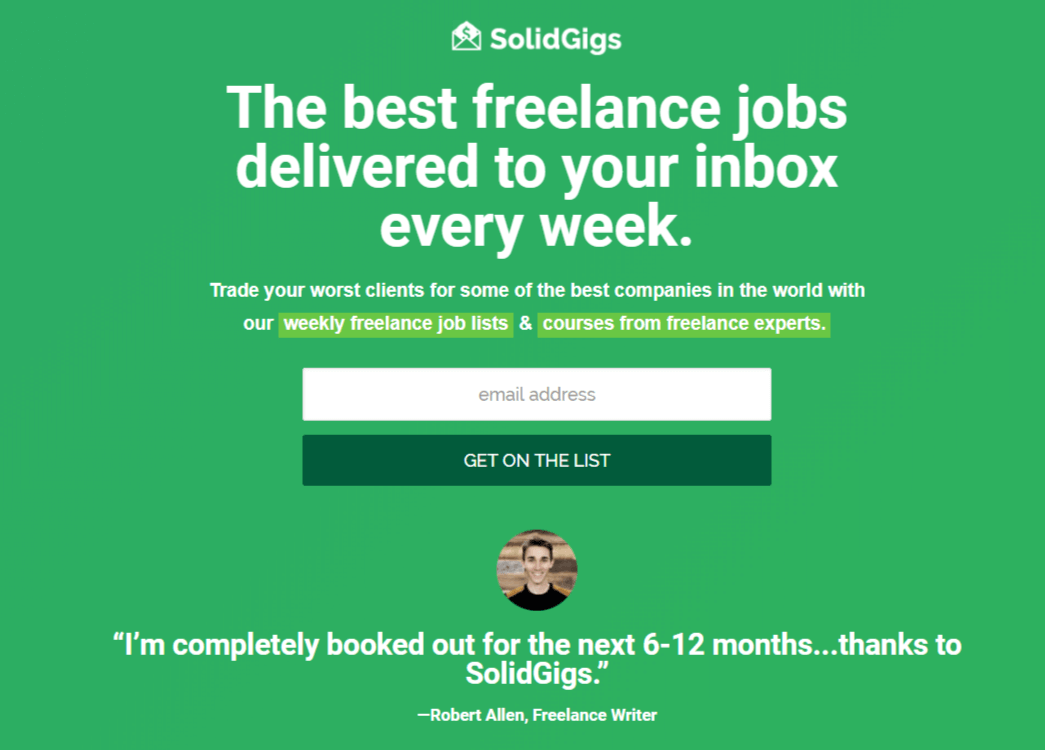 If you prefer contract-based and more gig-style remote jobs, SolidGigs is for you. The SolidGigs staff comb dozens of job boards every week and alerts members of the very best 1% of jobs available daily. This will definitely save you hours of hunting each week. In addition, it helps you get back to doing work you actually enjoy.  The SolidGigs' monthly membership fee grants you access to a huge resource library with courses, interviews, templates, scripts, and other tools. These are focused on helping you land more freelance jobs, negotiate your rates, pitch high profile clients, and grow your freelance business.
5. HubStaff Talent

Hubstaff has a reputation for pairing quality companies offering remote jobs with great talent. The platform requires you to create a free account. Your account then grants you access to the plethora of new remote jobs posted daily. The beauty is that you can take on some gigs why you continue with your full time day job.
6. The Muse

The Muse enables you to find remote jobs doing everything from online ESL teaching gigs, to project management positions and sales roles. In addition to this, The Muse particularly features access to the following:
one-on-one professional coaching,
online courses to help you prepare for challenges like negotiating a offers for your remote jobs, and
in-depth profiles on the companies that are advertising remote jobs through their website.
7. Dynamite Jobs
Dynamite Jobs is known as one of the most human job boards amongst remote job candidates and companies. The Dynamite Jobs team checks each remote job listing to make sure it is 100% remote, open and paid. Over 100+ quality remote jobs are added each week to the platform So, searching for the one you want is customizable with the site's variety of filters and functionality. As a remote job candidates, you need to sign up for their free Job Placement Program. You will receive alerts about  the newest jobs in your industry and also be connected directly with hiring companies.
8. Virtual Vocations
Virtual Vocations offers attractive membership packages, which grant you access to some incredibly helpful tools. But if you don't want to pay, Virtual Vocations' vast remote jobs board is still accessible without having to subscribe.
9. Remotive
Remotive's remote jobs board allows you search through all categories, including marketing. What makes Remotive stand out is its community. You will get access to information and great advice through email newsletters, interviews, and webinars on a bi-monthly basis> This is to help you land better remote jobs.
10. Jobspresso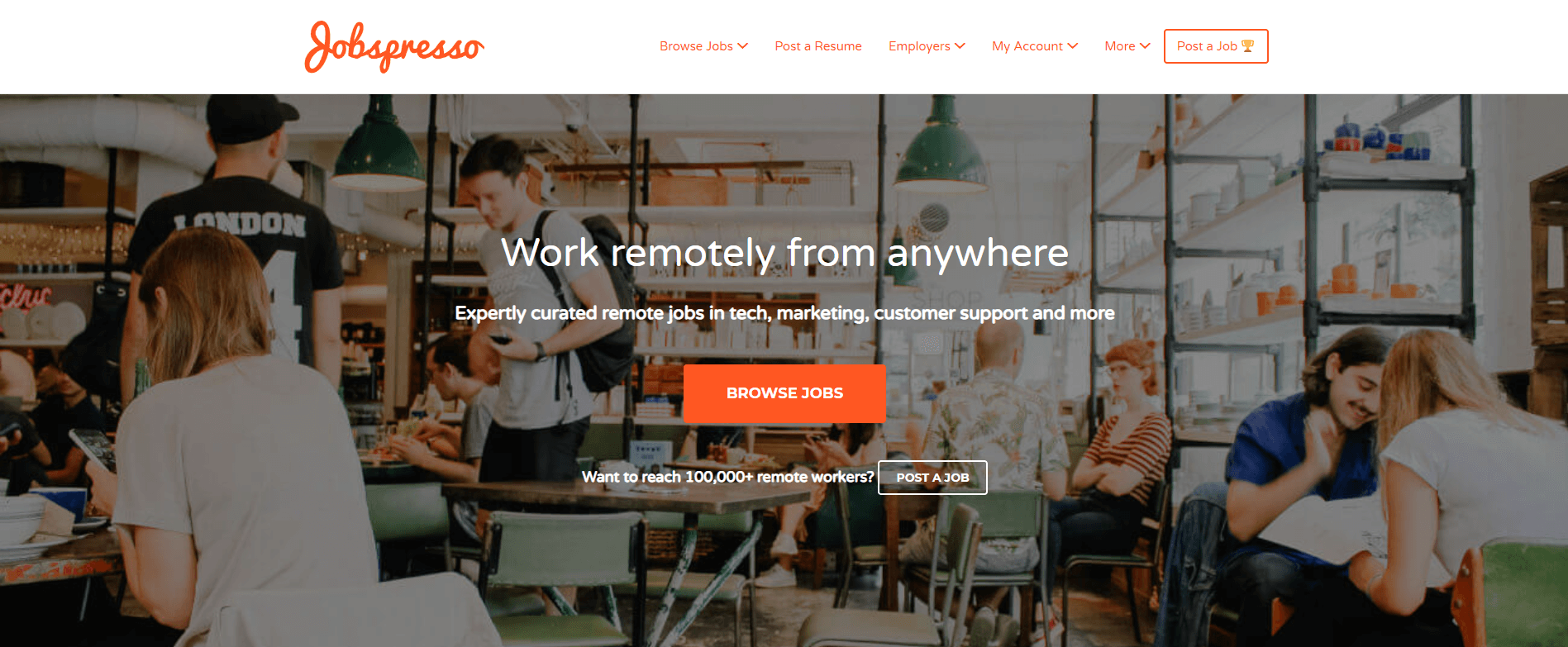 The staff of Jobspresso hand-pick and review every remote job on this platform. Despite this, you get access to this job board free. Companies who post their jobs on Jobspresso can pay to have their listings "featured," and boosted to the top of the remote jobs boards.
11. We Work Remotely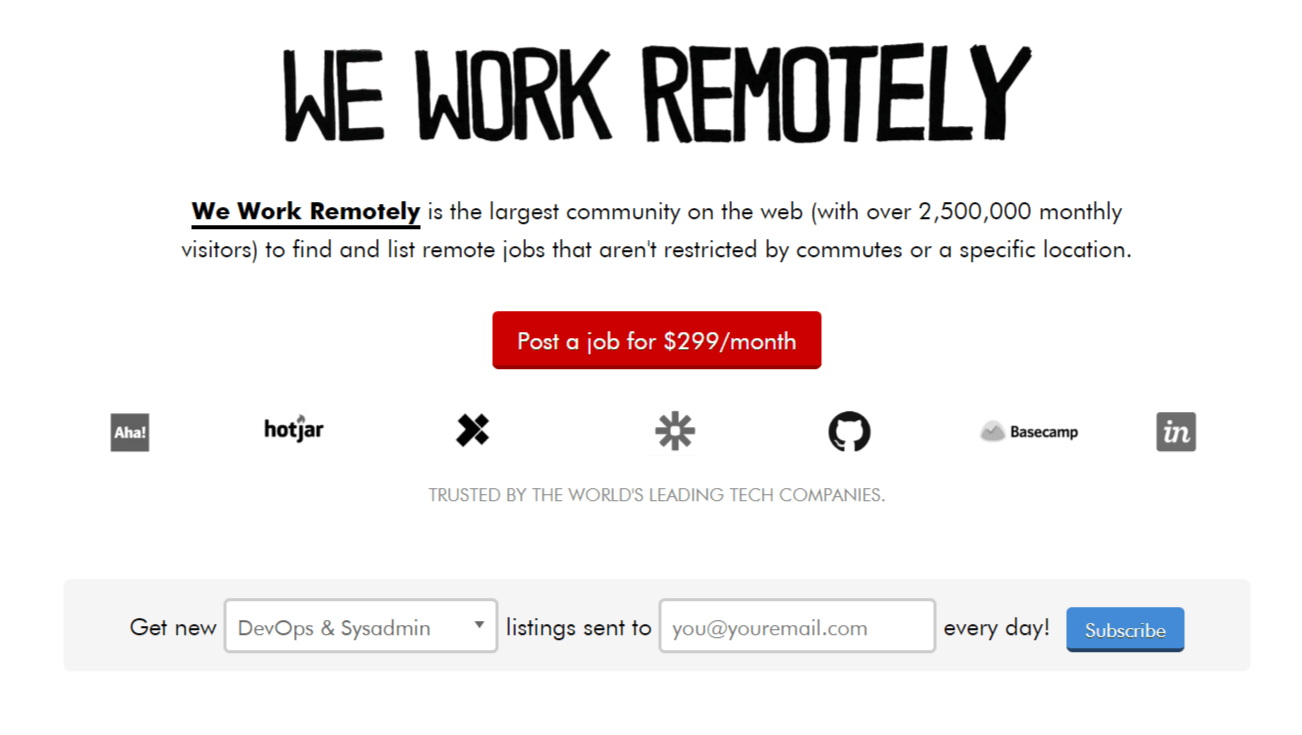 We Wok Remotely breaks its jobs board by category. The most popular categories are Customer Support, Product Jobs, Programming, Copy-writing, and Business Management. The website is super intuitive, and easy to navigate.
12. Remote.ok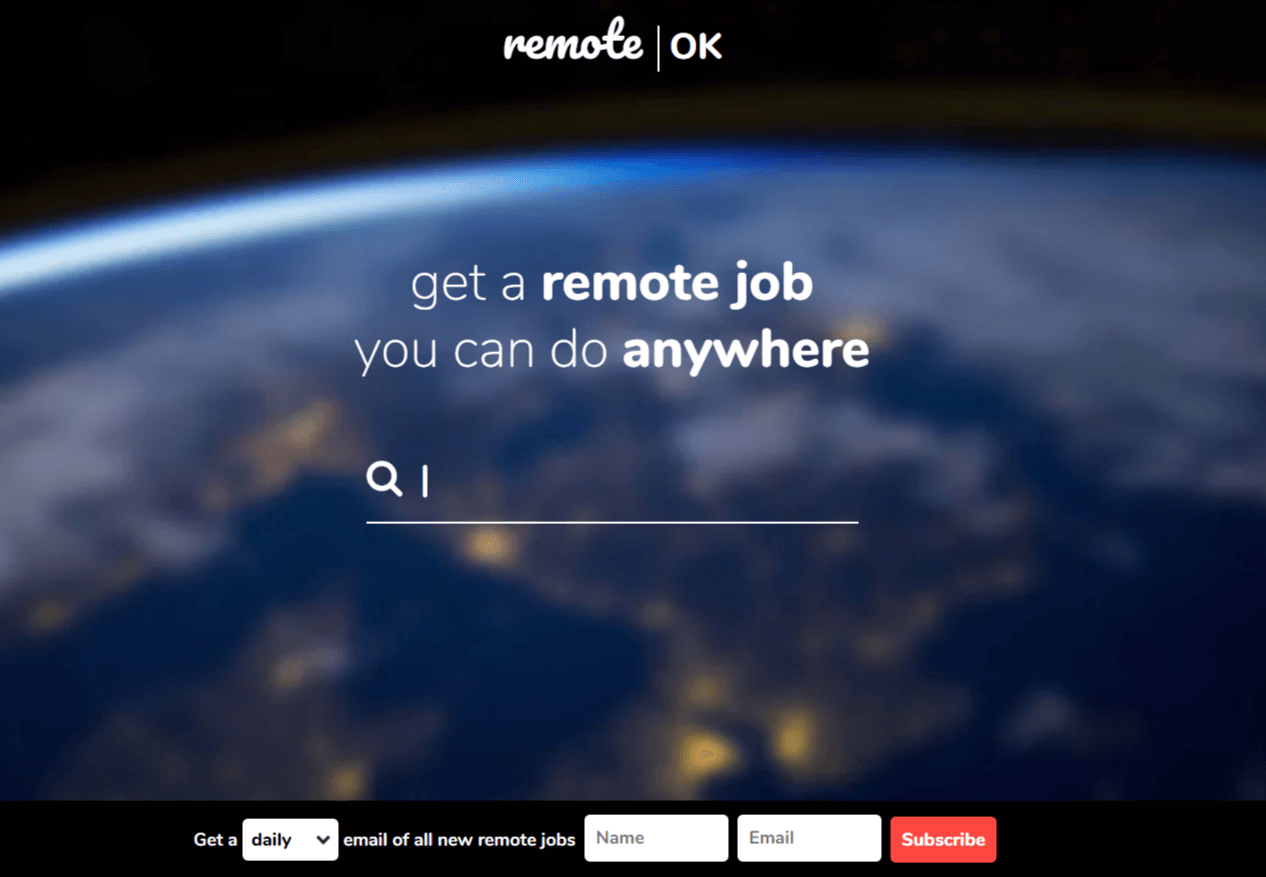 Remote.ok has some exciting features which include live rankings of the top companies offering remote jobs and actively hiring candidates over the last 12 months, statistics about what kinds of remote jobs are trending most today, and of course tons of well-paid remote jobs listings for designers, developers, writers, marketers, salespeople and more.
13. Working Nomads
Working Nomads grants you access to a curated list of remote jobs sent straight to your inbox, either daily or weekly. If you prefer to check the jobs opportunities online, the website is color-coded by category and easy to navigate. While their remote jobs categories range from Design to HR to Legal, the highest number of postings are for Development. So, this is a great remote jobs website for software engineers.
14. Skip the Drive
Skip the Drive has a filtering system that makes your remote jobs search faster. The platform breaks down the remote jobs by category. You can sort each category by date, relevance, full or part-time, and by location. Skip The Drive also pools remote jobs from many of the bigger job-listing sites. So, using this platform can save you a ton of time and provide more options than many other remote jobs platforms.
15. Outsourcely

Outsourcely has an amazing resource for anyone looking for full-time remote jobs. When you create a profile on this remote jobs platform, you will put yourself in the direct line of sight of companies looking to foster long-term relationships, not just gig-based projects.
16. 100 Telecommute Jobs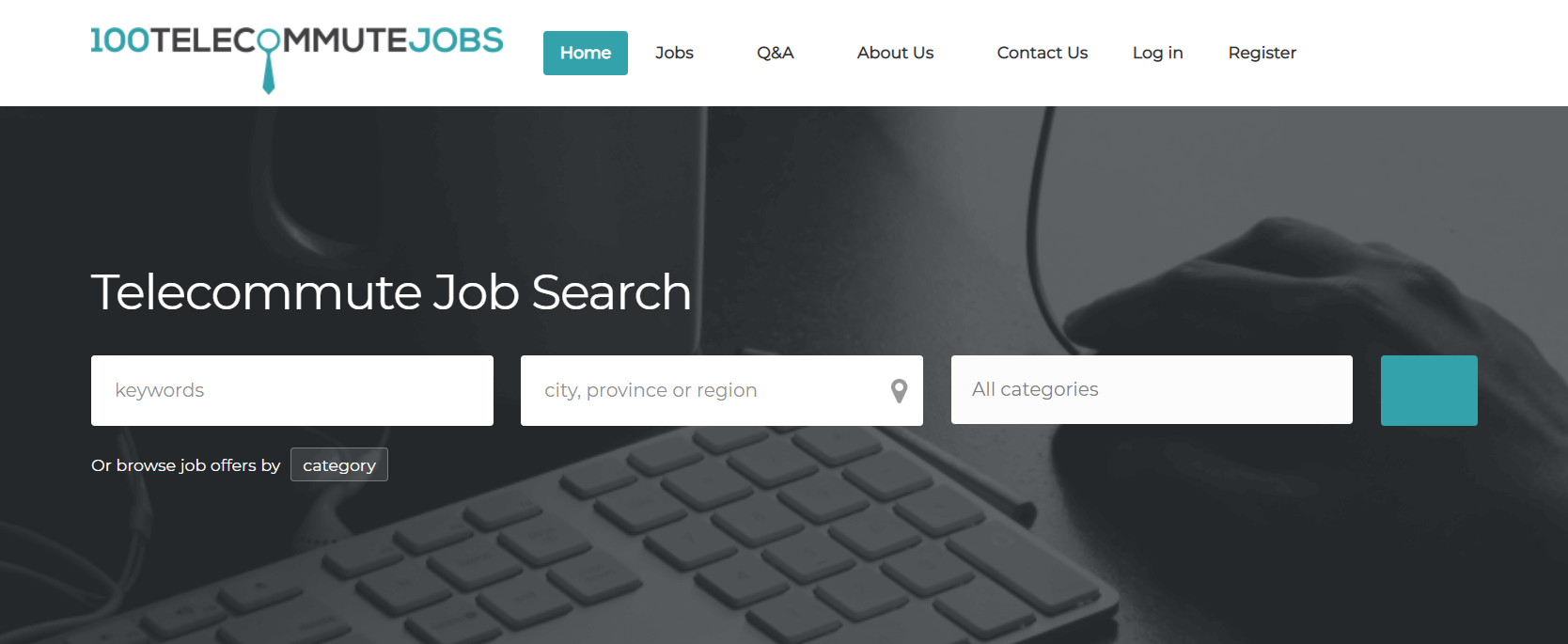 100 Telecommute Jobs is like the underdog of the remote jobs board world today. The company seeks to make the perks of landing remote work available to everyone. Check out the "Job Categories" grid for a monochromatic map of job options.
17. Remote.Co
Remote.Co's jobs board is broken down by category, and clearly shows the timestamp of each posting.  You will find some great resources for remote job seekers, including a great Q&A board.
18. Remote4Me
Remote4Me was designed for members of the tech community. However, there is also a robust listing module for non-tech work like sales, HR, and SEO. Remote4Me is an aggregated collection of remote jobs from about 40 other job boards. This will end up saving you tons of time in your search. This is why this is one of my favorite top remote jobs websites you need right now.
19. Rise
Rise is the premier remote job site for women who want to start freelancing, pick up some contract-based projects or even land otherwise flexible remote jobs. The platform is a vertical-centric ecosystem and brings together flexible jobs, on-demand benefits and services (like health insurance, financial services, tax and accounting support) and an engaged community. The platform seeks to build a future where women are empowered to go further and faster, on their own terms.
20. Remote Jobs Club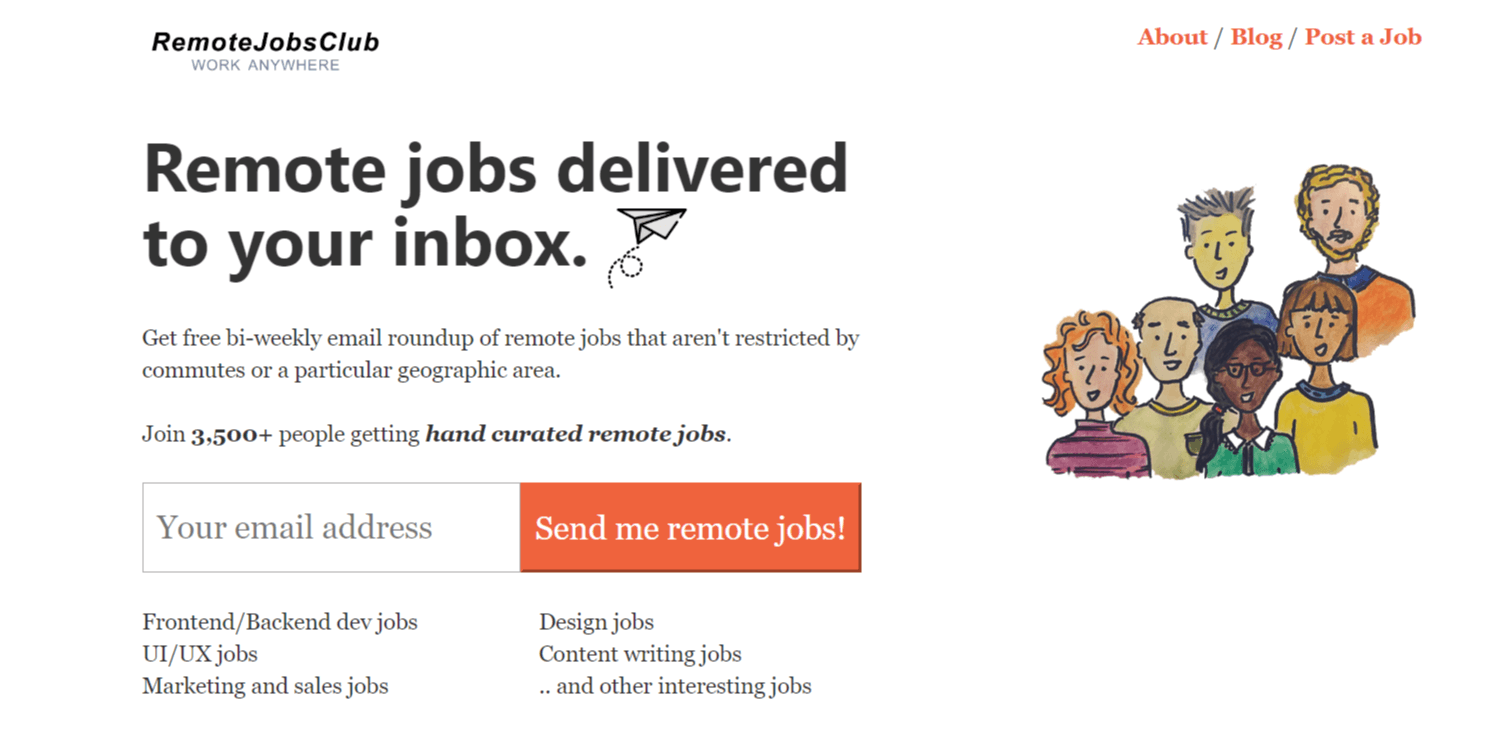 Remote Jobs Club has a newsletter that allows you to get free bi-weekly email roundup of remote jobs that are not restricted by commutes or a particular geographic area. With the newsletter, you can look forward to a friendly, gentle nudge. Remote Jobs Club is free, and focuses on helping people find their dream remote jobs!
If you like this article on "Top Remote Jobs Websites You Need Right Now", share it with your friends and family. Also, subscribe to our newsletter to ensure you don't miss any update from us.  Finally, don't forget to join our community to connect with others.
Featured Post Image Credit: Rise